Our onsite laboratory and same-day processing of denture relines (in most cases) ensures you do not have to go overnight without your dentures.
Denture reline impressions are generally scheduled first thing in the morning. The prosthetics are left with us to process a new liner inside the dentures making the dentures fit more intimately and stabilizing the prosthetics. The prosthetics are then inserted near the end of our work-day. This allows patients to have the comfort and eating ability for their dinner.
Did you know the alveolar bone (the patient's ridge) "shrinks" away over time?
When there are no roots from natural teeth in the bone to stimulate and give the bone a purpose, the bone slowly atrophies. This is why denture relines should be done on a regular interval (every 2-3 years) to ensure dentures are fitting intimately with the ridge.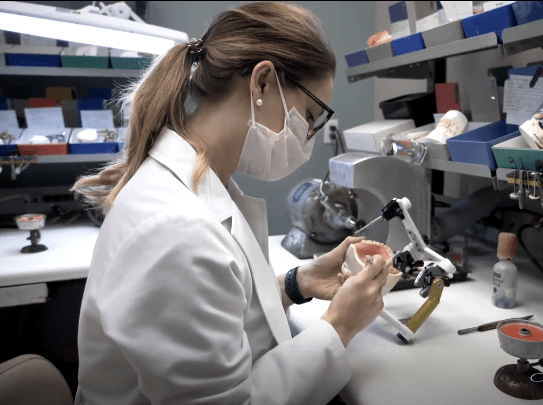 Our Process
What can I expect for loose fitting dentures (denture relines):
Morning visit, assessment of age of prosthetic and to ensure occlusion is still good.
Border moulding and impressions inside existing prosthetic.
Return to insert relined prosthetics (in most cases this can be same day, evening visit if picking up same day).
Looking for More Information?
Visit our F.A.Q's page for answers to our frequently asked questions.
Request a Consultation
Complete the form below to book a FREE complimentary consultation and take the first step towards a beautiful brand new smile! One of our representatives will review your submission and contact you shortly.